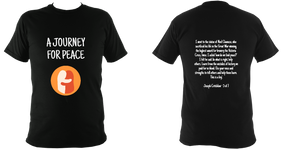 Every time you purchase one of these T-shirts we will give all the profits to one of the world's leading visual impairment schools! Thank you.
This t-shirt is printed on both the front and on the back.
Please think about collecting all 7 of these exclusive t-shirts. Each ties in with one of 7 comics - this one of course being FRIENDSHIP. The others in the collection are HEALTH, HAPPINESS, WISDOM, PEACE, BRAVERY and JUSTICE.
Our prints are soft to touch, 100% organic, and 100% safe for children and infants. What does this mean for you? The prints are ink-based and form part of the garment rather than being printed on top, so the print feels soft and stretches with the shirt. Washed normally the print will last as long as the garment. You can even tumble-dry. All shirts are printed using 100% biodegradable, water-based organic inks meeting the strictest industry standards.
Illustration ©️ Eevee Fox Art
FABRIC:

100% cotton heavyweight t-shirt




Seamless twin needle collar




Taped neck and shoulders




Twin needle sleeves and hem




Tubular body




Weight: White 175 gsm, Colours 185 gsm
INKS:
Water-based

Totally organic

100% non-hazardous

100% toxin-free

Completely vegan-friendly and contain no animal by-products

Certified as safe for children and babies
Colours: Black

Sizes and Prices:
All sizes £17.99, plus postage and packing
 
SUPPORTING:
All proceeds/profits will go to St. Vincent's School for Sensory Impairment and Other Needs.